---
---
Posted by
Gabriele Hanstein
on
---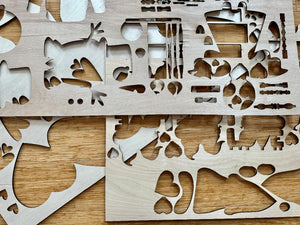 Stop! Don't discard your leftover material; create the perfect essential item to promote your business. You may even have enough left-over material to craft up a fun gift for friends and family.
---
Posted by
Gabriele Hanstein
on
---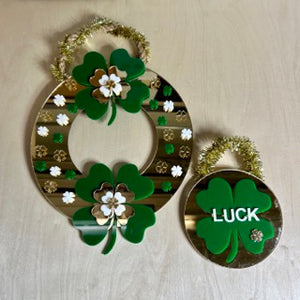 Looking for the perfect St. Patrick's Day piece for your front door or a way to celebrate your Irish heritage… then you're in LUCK! Follow these easy steps to create this Sleek Shamrock wreath for St. Patricks Day and everyday! Free downloadable file for project included!
---
Posted by
Jaclyn Baldwin
on
---
Baltic Birch Plywood, also known in the industry as Russian birch, originates from trees sourced in the Baltic Sea region, and is produced most commonly in Russia and Finland.  It is available in many thicknesses, as well as in different grades, with B/BB and BB/BB among the most popular for lasering and furniture making.  Baltic Birch is graded with letter designations for the face/back side of a panel, ranging from A (best quality) to C (utility grade).  At MakerStock, we stock B/BB and BB/BB grade Baltic.  B: Typically uniform light color, with no plugs/patches (football shaped oval patches about the...