---
MakerStock Blog
---
Posted by
Gabriele Hanstein
on
---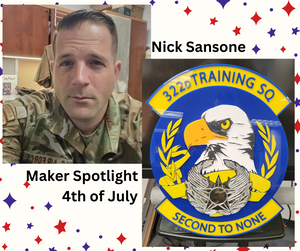 MakerStock's Maker Spotlight highlights the talented makers in our community. This month, our 4th of July themed Maker Spotlight features the awesome maker, Nick Sansone! Nick pushes the limits of making with the pieces he creates. All his projects are made from a mixture of acrylic and wood from MakerStock! His work consists of signage, badges, wall art, shadow boxes, and other larger projects. Nick is also an official OMTech Laser affiliate, another US based company. Nick is the creator of NPG creation shops and he is active on social media and Etsy. At NPG creation shops, he focuses...
---
Posted by
Gabriele Hanstein
on
---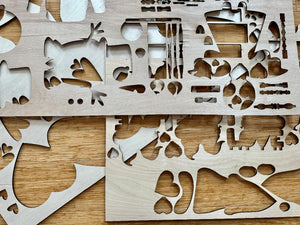 Stop! Don't discard your leftover material; create the perfect essential item to promote your business. You may even have enough left-over material to craft up a fun gift for friends and family.
---
Posted by
Gabriele Hanstein
on
---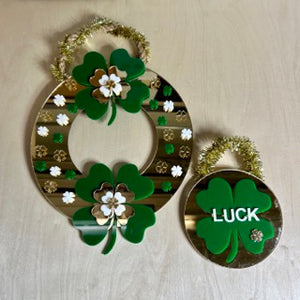 Looking for the perfect St. Patrick's Day piece for your front door or a way to celebrate your Irish heritage… then you're in LUCK! Follow these easy steps to create this Sleek Shamrock wreath for St. Patricks Day and everyday! Free downloadable file for project included!
---
Posted by
Jaclyn Baldwin
on
---
The Right Materials, At The Right Size, At The Right Time At MakerStock, we know that there isn't a "one-size-fits-all" for all of the possible projects out there. We keep the most common size panels in stock and available for quick checkout on our website. But, your project does not need to be limited to just those sizes. MakerStock will custom cut any of our materials upon request. Maybe you have a cracked plexi panel in your laundry room that you would love to replace? And you were eyeing up frosted white acrylic since it looks perfect for hiding fluorescent bulbs...
---
Posted by
Jaclyn Baldwin
on
---
We are all guilty of expressing our displeasure when we do not receive an order in the timeframe that we expect it. Once we place an order, we expect to receive it the next day. In a world of Amazon Prime, the almost magical appearance of goods so quickly has conditioned us to expect it from everyone and every place we order from.  At MakerStock, our goal is to ship all stock size orders within 24-48 hours. Custom cuts typically ship in the same timeframe, but may take an additional day to ship. We ship from Old Forge, PA, just...
---