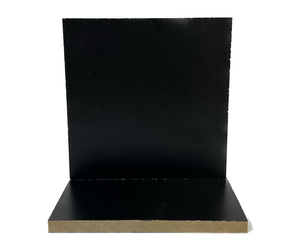 Melamine with MDF Core (Black)
Black Melamine with MDF Core - Two Sides
Description
What is melamine?
Melamine, also known as thermally fused laminate, is manufactured in a one step process when top and bottom impregnated decorative layers are pressed and permanently thermofused to MDF. Large steel press plates are used during this process to create the surface texture. The finished panels are ready for use.
Melamine is scratch, heat and water resistant. 
Our Black Melamine has a wood-based MDF core manufactured using 100% recycled and recovered wood materials. The melamine resins used to bond the black decorative paper and panel together produce a durable, hard, smooth and color stable product. 
Specifications and Dimensions
1/4" / 6mm Nominal Thickness
Water resistant (edges should be sealed)
Durable and scratch resistant
Heat resistant 
Smooth finish 
Easy to cut with wood working tools (we recommend scoring first)_Hobbies & Creative Artsw
Clean with a synthetic soft cloth with soapy water, or any non-abrasive cleaner
Uses 
Cabinets
Panel Furniture
CNC Routing
Shelving
Displays
Signs
Laser Cutting and Engraving
CNC Machining
Suggested Laser Settings 
These are only suggested settings. Please refer to your laser cutter manual for the optimal settings for your system. 
60 WATT SYSTEMS - 3mm / 1/8"
Raster/Engraving Power: 25
Raster/Engraving Speed: 100
Vector/Cutting Power: 40
Vector/Cutting Speed: 100
60 WATT SYSTEMS - 6mm / 1/4"
Raster/Engraving Power: 
25
Raster/Engraving Speed: 100
Vector/Cutting Power: 2
0
Vector/Cutting Speed: 100
---
We Also Recommend