---
News
---
Posted by
Jaclyn Baldwin
on
---
Ever wish that you could easily order a custom size acrylic sheet or plywood panel? At MakerStock, we offer no minimum custom cuts. It's as simple as sending an email to sales@makerstock.com or filling out our online quote request form.  And now, it is easier than ever with our custom cut calculators. With our custom cut calculators, you select your material, enter your length and widths and receive a quote within seconds. Not only will you receive a quote, but you have the option to add to your cart and complete checkout.  Online ordering for custom cuts is now available...
---
Posted by
Jaclyn Baldwin
on
---
Inventors. We are surrounded by them and their creations.  They are the ones with a critical eye and a querying "why" on their lips. The ones that simply do not accept "no" or "not possible" as an answer to a problem. They are often the ones that recognize a limitation and seek to reduce or eliminate it.  For those of us in the maker universe that use C02 and fiber lasers daily to create, innovate and invent, we have the questioning minds of a few engineers and physicists to thank.  The laser, more formally known as "light amplification by stimulated...
---
Posted by
Jaclyn Baldwin
on
---

The Oxford dictionary defines a library as "a building or room containing collections of books, periodicals, and sometimes films and recorded music for people to read, borrow, or refer to." This is still very much true. Libraries, and bookstores, both pretty much fit this bill. A building filled with books. A bibliophile's dream.  Some of my fondest childhood memories involve books. To be honest, most of them involve books. My family would walk to the library every weekend to replenish our nightly reading material. Rather, they would walk, and I would skip ahead with a bulging knapsack full of books. ...
---
Posted by
Jaclyn Baldwin
on
---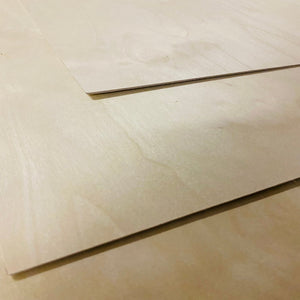 Koskisen is more than just bendy plywood.  Koskisen, in business for over a century, provides a variety of wood products logged and milled from Finnish forests. Their focus on sustainability and responsible forest management is one of the many reasons we love working with them. Not to mention, of course, their ever growing product line. From bendy birch to plywood, they have just about everything you need for your project.  At MakerStock, our Koskisen expansion now includes thicker plywood, along with exterior glue materials. If you always use Baltic Birch Plywood, you may be wondering if you can use Koskisen instead. And the...
---
Posted by
Jaclyn Baldwin
on
---

Madreperla is a third-generation family business that has produced acrylic sheets for the past 70 years. Beginning in the 1950's, the company had its start with the manufacture of acrylic buttons. The fashion of the time was mother-of-pearl buttons, hence the origin of the company name, Madreperla, which in Italian, means "mother of pearl." Over the years, with an eye on market trends and customer demand, Madreperla has expanded and grown, moving from button production to cast acrylic sheets. Now, as Italy's leading acrylic manufacturer, Madreperla offers a wide and growing range of acrylic materials in a variety of colors, finishes and more. ...
---