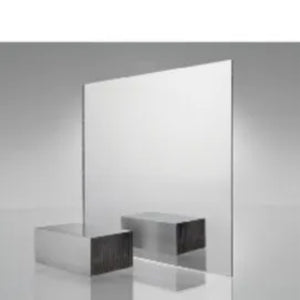 Acrylic (Two-Way Mirrored Acrylic)
See- Thru Mirror Acrylic Sheet
Description
What is two way mirror acrylic? 
Also called see thru mirror. A semi-transparent aluminum film deposited on the substrate allows a percentage of incidental light to pass through while reflecting the remainder. From the illuminated side, it's a mirror. From the darkened side, it's transparent.


Uses

Mirror acrylic is ideal for use as a decorative reflective surface, merchandising display and an esthetic, and less expensive, lighter replacement for glass mirror. 
Also used for monitoring and surveillance operations.

Specifications and Dimensions
As seen in the photos, this acrylic is mirrored, silver. Mirrored acrylic is special because it adds a special reflective look to your acrylic sheet. Mirrored silver, opaque acrylic sheets for laser cutting have many uses, and you can buy this mirrored plexiglass online in whatever sizes and thicknesses you need. We do custom sizing and custom cutting as well!
The actual thickness of the "1/8" is 0.118in and of the "1/4" is 0.241in.  All MakerStock panel dimensions are cut to tolerances of +0in/-0.188in. That is, the panel will always be up to 3/16in undersized so that it will definitely fit a machine with the corresponding nominal bed size.
Our mirror acrylic comes with a plastic film applied to both sides of the material. This protects it from scratching. Once you've finished fabricating your parts, you simply peel off the film.
The density of acrylic is about 1180 kg/m3 or 0.043 lb/in3, so acrylic is quite a bit heavier than wood, but only about 40% of the density of aluminum and less than one half the weight of glass. 


---
We Also Recommend