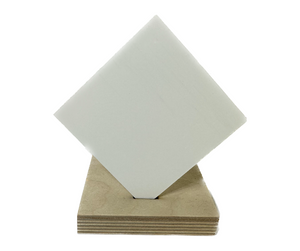 Expanded PVC Foam - White
Expanded PVC Foam - White Foam Sheet
Description
This is pre-cut white expanded PVC Foam. PVC foam sheets are ideal for digital or screen printing, signage, fabricating, prototyping and much more. Popular manufacturers of PVC foam sheets include Vycom, Kommerling and Sintra. 
What is Expanded PVC Foam? 
PVC foam is a lightweight, low density, non-toxic plastic. It has a closed cell expanded core which enables a smooth edge and reduces moisture absorption.
Often used for signage and screen/digital printing, PVC foam has almost unlimited uses in a makerspace or lab. PVC foam has full color thickness, making it ideal for model making, prototyping and much more. 
PVC foam's weather, UV and impact resistant properties makes these panels excellent options for durable exterior, or interior, signs, letters or displays. 
For bonding PVC sheets together, or to another PVC material, we recommend a solvent based adhesive. To bond to other substrates, use an epoxy, rubber-based or urethane adhesive.
PVC foam sheets are NOT the same as foam core boards. Foam board or foam core sheets have a polystyrene core with a paper backing on both sides.  PVC expanded foam sheets are expanded polyvinyl chloride sheets. 
PVC Expanded Foam sheets in white are film masked on one side only.
Not suitable for laser cutting or engraving.
Uses
POP Displays, Signs, Fixtures
Digital Printing

Screen Printing
Photo Mounting
Display Boards
Vacuum forming
Die cutting, milling, routing
Hot bending and heat welding
CNC machining
Water jet cutting
Prototyping and model making
Interior and exterior use
Properties

Lightweight 
Uniform and durable
Lead and heavy metal free
Easy to cut, glue, nail/screw, machine and paint
Can be cut or worked with any wood working tool
Mold & mildew resistant
Fire resistant
Water resistant
Weather resistant
Scratch resistant 
Specifications and Dimensions
Available in 3mm and 6mm nominal thicknesses.
Thickness tolerances of +/-10%. 
Cut tolerances of +0in/-0.188in. 
---
We Also Recommend